Anders Fogh Rasmussen
Former Prime Minister of Denmark
& NATO Secretary General
His book "The Will To Lead" discusses
America's strategic leadership role

For three decades Anders Fogh Rasmussen has been at the centre of global and European politics; including being Prime Minister of Denmark, Danish Minister of Economic Affairs and NATO Secretary General. Anders now runs his own political consultancy, Rasmussen Global, and is non-staff adviser to Ukraine's President Petro Poroshenko. He has also joined the Yalta European Strategy (YES) board. In 2017 Anders founded The Alliance of Democracies, which is dedicated to the advancement of democracy and free markets across the globe. He is also co-chair of the Transatlantic Commission on Election Integrity, which unites political, tech, business and media leaders to detect and prevent the next generation of foreign election interference. Most recently Anders Fogh Rasmussen has joined Concordium as a Strategic Advisor. Concordium is the world's first identity-validating, regulatorily compliant blockchain network.
Anders has played a key role throughout his various tenures; when Denmark held the Presidency of the European Union he concluded 10 candidate negotiations for accession to EU membership. As part of NATO he helped create a fundamental transformation of the Alliance, developing a new Strategic Concept, setting core priorities for the future. In the midst of the most serious economic crisis of modern times he launched a new initiative calling on nations for more multinational cooperation.
It is Anders' experience and achievements along with his outstanding abilities which makes him recognised as a hugely respected voice in international politics. Anders gives unique insights into geopolitical trends and international hotspots. He also discusses the current international security challenges with great clarity. Drawing on his skills as an effective communicator, as a speaker, Anders Fogh Rasmussen also provides audiences with his knowledge and vision about Europe's role in the world of geopolitical change.
Geopolitical Trends and International Hot Spots

International Security Challenges

Geopolitical Changes – Europe's Role

Leadership in a Troubled World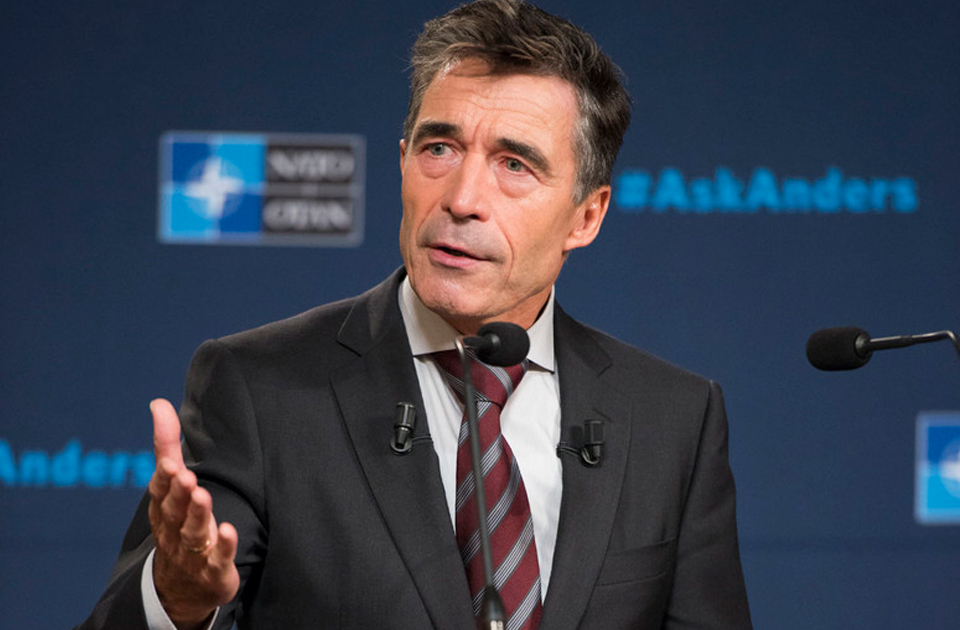 " The edge of competition has sharpened and strengthens the requirement for staying one step ahead through technological advances, value creation and new working methods. "
" A true leader must stay focused on the goals, demonstrate true resolve, and be willing to take risks. "
Knight Grand Cross in the Order of Orange-Nassau (2014)

St. George Medal, 1st Class, awarded by the Defence Minister of Bulgaria (2014)

Order of Stara Planina, awarded by the President of Bulgaria (2014)
Order of Liberty, awarded by the President of Ukraine (2014)

Doctor Honoris Causa title by the University of Bucharest (2013)

Medal of Merit in Gold (2012)
Interview with Anders Fogh Rasmussen

1. What are the top 5 threats to international security in the coming decade?
I would point to the following five major threats to international security:
First, international terrorism. The rise of radical Islamism will fuel terrorism, not only nationally, but also globally. The terrorist network, al-Qaida, the sectarian Sunni-Shia divide and the rise of the so-called Islamic State hold the greatest potential for a regional and global terrorist threat.
Second, nationalistic revisionism. Russia's attempts to re-establish a zone of Russian influence in its near abroad and China's flexing of muscles in the East China Sea are prime examples.
Third, proliferation of weapons of mass destruction. Iran's nuclear aspirations pose a risk of a regional nuclear arms race. Non-secure stockpiles of nukes or biological weapons are tempting targets for terrorist groups set for terrorist attacks.
Fourth, cyber attacks. Cyber attacks can disrupt the critical infrastructure that is vital to our economy, commerce, public safety and military. These attacks can be carried out by criminal groups as well as terrorist networks and nation states. Disinformation is intoxicating our societies, but the next generation of Artificial Intelligence-enabled disinformation such as deepfake videos, will be a game-changer.
Fifth, transnational crime, such as arms smuggling, human trafficking and drugs trade. These illicit activities will often be financing terrorist organizations and extend their reach and wealth.
Many of these threats will be reinforced by failed states where people suffer from poverty and lack of opportunities, and climate change that will lead to new conflicts over migration and resources.
2. How do you become a true leader and what traits must you possess?
A true leader must be capable of setting a clear vision, transforming that vision into concrete goals, elaborating a strategy to achieve the goals, creating a coalition to carry out the strategy, and communicating the vision, the goals and the strategy. The true leader realizes that his or her overall mission can only be accomplished through team-work. That requires an ability to attract the most talented and ambitious people, to develop a good and creative working environment, and to show genuine appreciation for a good performance. At the same time, the true leader must stay focused on the goals, demonstrate true resolve, and be willing to take risks.
3. What is Europe's role in 21st Century geopolitics, and which changes can or should be applied?
The European Union is the ideal forum for tackling globalisation. With its well-developed institutions, its democratic values, and its economic weight and clout. It is time for the EU to "go global". First and foremost, because we as Europeans have a responsibility to work for freedom, democracy and peace around the world. But next, because it is in our own interest. The global power structure is changing. We can no longer take for granted that our values will continue to dominate international relations. The EU must be strong in order to defend freedom, democracy and human rights.
First, we must reform our economies to make them more competitive and stimulate growth and job creation. Second, the EU must take the lead in efforts to foster free trade and transatlantic economic cooperation. Third, we must strive for an independent Europe and reduce Europe's dependency on imported oil and gas. Fourth, the EU must guarantee its citizens' safety and security at a time when organised crime and terrorism attempt to breach all borders. Fifth, the EU must play a far more active role in its foreign policy – taking the lead in the fight against poverty and promoting security and democracy across the globe.
4. What are the key international challenges and opportunities for businesses in the coming months and years?
Partnering with GoogleAI has helped to dramatically accelerate the optimization and troubleshooting of complex systems like plasmas, which can change faster than a human alone could track. The Optometrist Algorithm we co-developed can predict the most favorable conditions for fusion, thereby exponentiating the information yielded from each experiment and progress made toward realizing the promise of fusion. We see the team's advances in AI/ML technology – coupled with standing on the shoulders of giants who spent 50 years of brilliant fusion research that got us here – as a turning point.

Technology is at the centre of the global competition between the world's democracies on one side and autocracies such as China and Russia on the other side. The artificial intelligence race will not only affect national security but also influence how multinational corporations and financial institutions operate. While independent multinationals serve consumers and many diverse shareholders, Chinese corporations underpin the technological and political ambitions of the Communist Party. Under pressure, some Western governments are tempted by more interventionist and protectionist policies to win the battle for technological dominance.
In this brave new world, geopolitics and cyberspace are likely to become ever more interconnected, especially as technology transfers are becoming politically more sensitive. Multinational corporations will find it hard to stay away from geopolitical issues. Now more than ever, private companies have a role to play in safeguarding the world in which we all live and prosper. Now is the time to strengthen cooperation between the world's democracies and ensure that technological development is anchored in democratic norms. The race for AI supremacy, Europe's attempts to achieve 'digital sovereignty', and the role of tech in geopolitics are matters that I plan to work and speak on in the months and years ahead.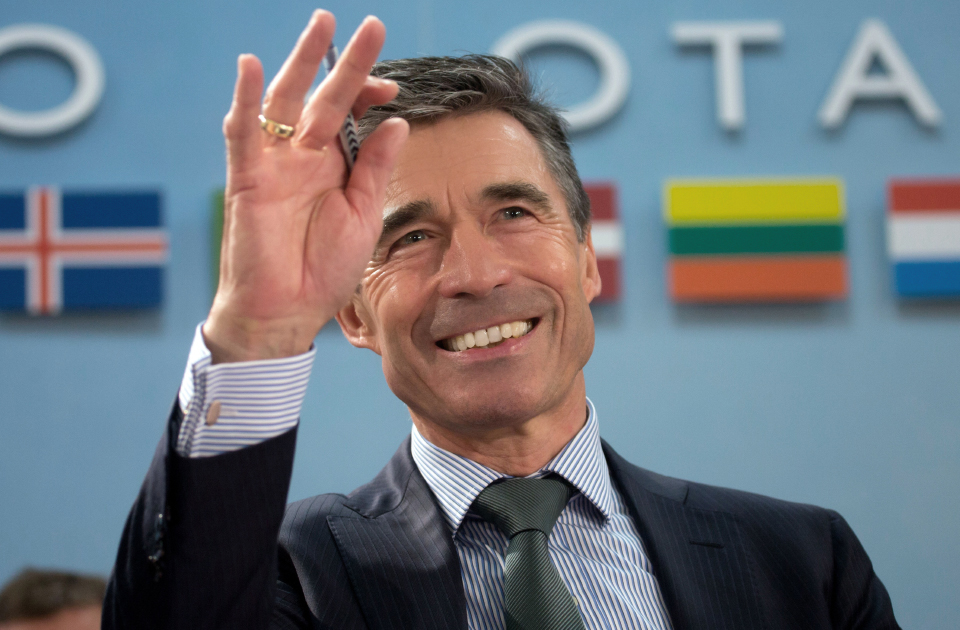 To book Anders Fogh Rasmussen

Drawing from his experience, Mr Rasmussen firmly believes that the enlargements of the EU and NATO have contributed to peace, progress and prosperity in Europe. He has achieved much diplomatic success as an extraordinary consensus-builder working behind the scenes with leaders of various nations. In his presentations he explains the tactics needed to promote world peace and security and the benefits to be reaped from achieving global stability.
If you would like to book Anders Fogh Rasmussen for your next event, please call Jakob Juhl on +376 735 174 or send an email to jakob@csaspeakers.com.