Ayesha Khanna
Wall Street Software Engineer
Turned AI Luminary
"I want people to stop talking about statistics
and start talking about human beings."

Dr. Ayesha Khanna is Co-Founder and CEO of ADDO AI, an artificial intelligence (AI) solutions firm and incubator. In 2017, ADDO AI was featured in Forbes magazine as one of four leading artificial intelligence companies in Asia and in 2018 Ayesha was named one of South East Asia's ground-breaking female entrepreneurs by Forbes magazine.
Ayesha has observed growing consumer appetite for digital solutions in products and services. For ADDO AI, this emerging demand has seen it help entities – from businesses to government agencies – build data-driven platforms that can radically improve their services.
She has presented at major financial, technology and other industry conferences, provided high level government briefings, chaired symposiums such as AI Asia, and spoken at TEDx events. Ayesha speaks on smart cities and the power of inter-disciplinary teams. She delivers keynotes on the opportunities and challenges of AI work and the importance of equity and transparency.
Ayesha has a BA from Harvard University, an MS from Columbia University and a PhD from the London School of Economics. Ayesha is a member of the World Economic Forum's Global Future Councils, a community of international experts who provide thought leadership on the impact and governance of emerging technologies like artificial intelligence. She directed the Future Cities Group at the London School of Economics and is the Founder of 21C GIRLS, a charity that delivers free coding and artificial intelligence classes to girls in Singapore.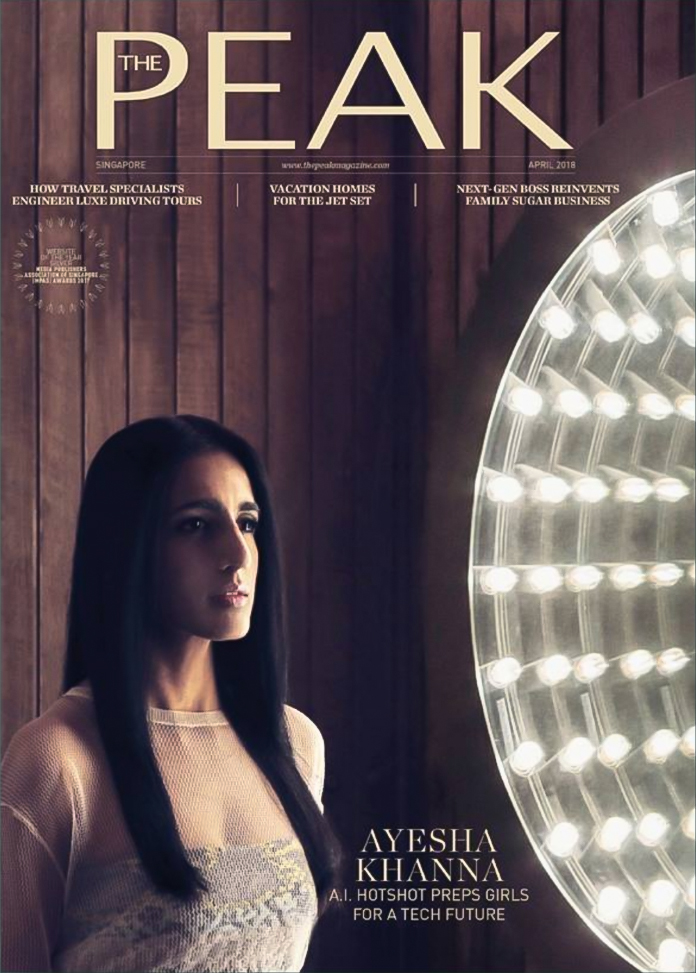 "A Wall Street Software Engineer Turned AI Luminary" is how 'The Peak' magazine recently described Ayesha when they met up to talk about her life and work.
Ayesha describes her introduction to science and technology and how she grew to love it. She also talks about the need for more women to be involved in tech and how she and her husband are determined to make a difference, especially in their adopted homeland of Singapore, which they moved to as they believe it is perhaps the world's leading 'info-state' with connectedness to rapidly advancing markets and technologies.
Click here to read the article.
Winning with AI – Embracing AI to Leapfrog the Competition

The Future of Work – Amplifying Human Potential in the 4th Industrial Revolution

Smart Cities 2.0 – How Innovative Leaders Drive Growth

Creating a Culture of Innovation

Top Ten Trends That Will Disrupt Your Industry

Women in Tech and Innovation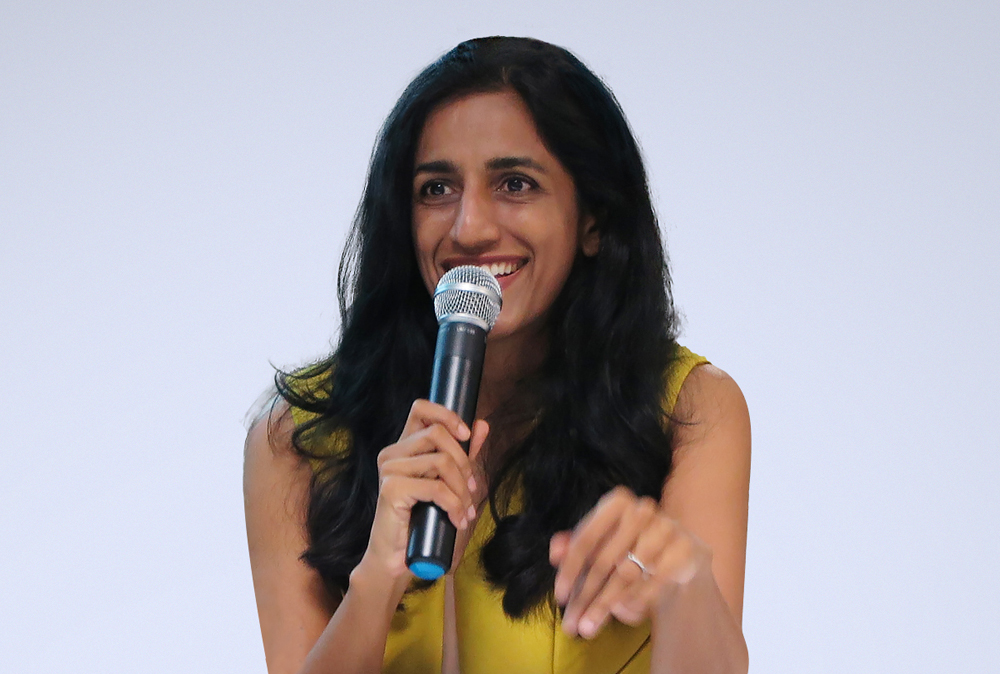 Interview with Ayesha Khanna

How Can you Succeed in an Era of AI and Automation?
Artificial Intelligence (AI) is maturing beyond hype to reality as over 85% of senior executives (according to a survey by MIT Sloan Management Review) believe AI will enable them to obtain a competitive advantage. For people to succeed in this hybrid reality of AI embedded across a wide range of professions, they must learn how to work with AI-empowered systems and robots. This is as true of existing industries that will become disrupted such as law and accounting (by some estimates, over 30 percent of current banking jobs will be digitised and automated as well), and also emerging sectors that will thrive and grow such as virtual reality. In both cases, employers will expect people to match their domain expertise with the capabilities of AI.
Mid-career employees must now embark on a complicated life-long learning journey. They must be up-skilled to adapt to new technologies and work in teams that include data scientists and programmers. As banks move towards branchless digital-only banks that are served by smartphone chatbots and robo-advisors to replace private wealth managers, banking professionals must learn new fintech applications that are being deployed across the economy. Popular programs such as MIT's Fintech Certificate and courses offered by new organisations such as the Centre for Finance, Technology and Entrepreneurship (CFTE) provide an avenue for bankers to pivot their knowledge and skills to remain marketable.
For young students, computational literacy will become as critical as the ability to read, write and do basic math, while existing employees will be expected to add value on top of automated processes. How we educate people in this new era of automation is important: learning how to creatively solve problems is as critical as learning the mathematical and computer science techniques of AI. This implies that the humanities and science subjects traditionally taught as separate and distinct fields must in fact be merged and taught in a project-based manner. Schools like Quest2Learn in New York and High Tech High in California exemplify the kind of institution whose students are well-prepared for 21st century industries like additive manufacturing, space engineering and computational genetics.
Even as many industries will be disrupted, optimised and automated by AI, others will emerge that will require knowledge, creativity and human ingenuity. But in order to confidently prepare for this new world, we must equip ourselves with the necessary skills and become lifelong learners.
Hybrid Reality: Thriving in the Emerging Human-Technology Civilization
By Ayesha and Parag Khanna
What human civilization needs more than anything is not greater IQ or EQ, but TQ: technology quotient. In their manifesto Hybrid Reality, husband-and-wife team Ayesha & Parag Khanna explores the frontier of the information revolution: The Hybrid Age.
In this era of disruptive technologies, accelerating change, and deep anxiety about the future, the Khannas explain how the "balance of innovation" has superseded the military "balance of power" as a measure of national potential, and provide a global tour of how the smartest countries, cities, and companies are harnessing new technologies to gain an edge. Each of us also needs better TQ to adapt to a future in which robots are normal social actors in our lives, healthcare becomes a vehicle for physical enhancement, academic pedigree dissolves in a global skills market, and virtual currencies enable tax-free transactions.
Whether the future is a dystopian global class struggle over technology or a Pax Technologica of transparency, access and equity will depend on spreading TQ above all else.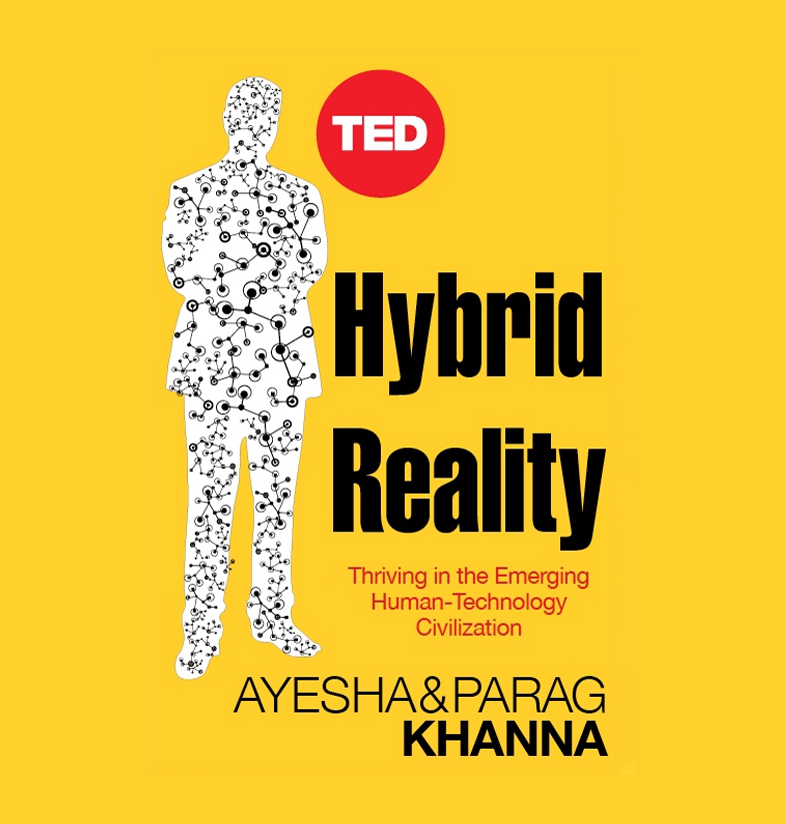 Ayesha's vast expertise on the intersection of technology, business and education helps audiences understand what is to come in the future. She shares with audiences how technologies disrupt and transform society, business and government.
Ayesha sees the world with a different set of eyes and she is very practical in putting new ideas into practice. Her unique background and experience allow her to engage her audience.
If you would like to book Ayesha Khanna for your next event, please call Dagmar O'Toole on +44 1628 601 462 or send an email to dagmar@speakers.co.uk.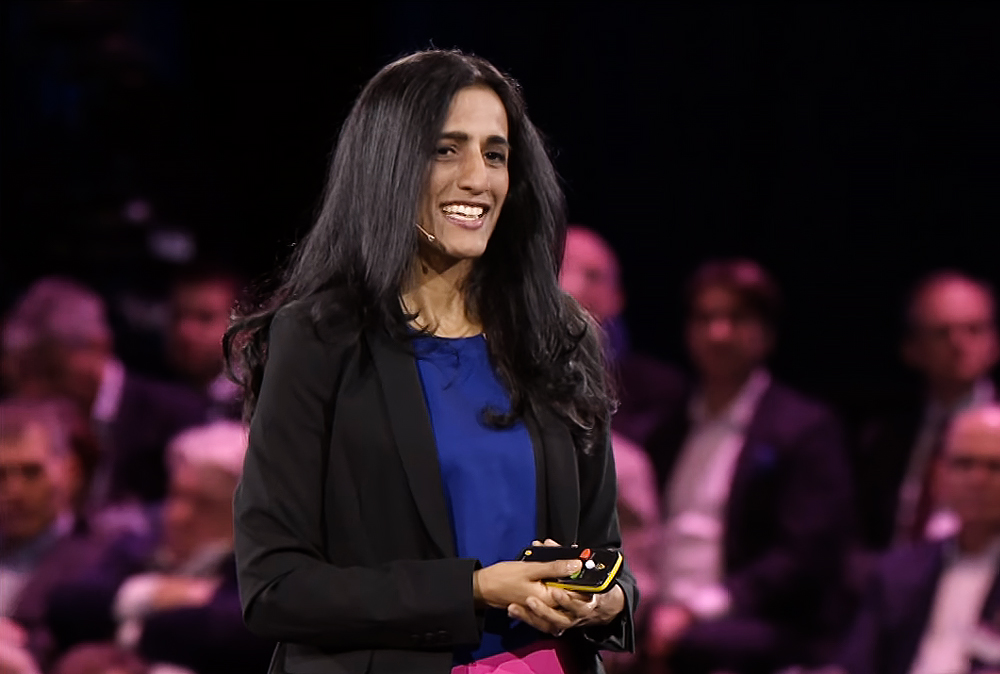 "I've never been afraid to try new things. I still feel excited about creating something new. That has always kept me going.

Ayesha Khanna