Duncan Wardle
Former Vice President, Creative Inc. Walt Disney
Duncan's #1 passion is to unleash the magic
within each individual and organization.

As the Former Head of Innovation & Creativity at the Walt Disney Company, Duncan Wardle developed a design thinking toolkit enabling both individuals and teams to increase their capacity to innovate. He is a provocative and results-driven business consultant, who applies his creative talents and unconventional methods to help companies and individuals get to those breakthrough ideas that lead to extraordinary results.   As a speaker Duncan delivers high-energy, entertaining and engaging keynote presentations on a variety of topics around Design Thinking, Innovation and Creativity.
Duncan has also drawn on his past experience at Disney to develop a series of training workshops that simplify the process of innovation, creativity and design thinking, and provide a suite of unique easy-to-use tools that help everyone think and act more audaciously.
Human vs Artificial Intelligence

Embedding Innovation into Everyone's DNA

Innovating @ Disney

Leading for Creativity

Insights for Innovation

Creating Cultural Change

Thinking Differently

Demystifying Design Thinking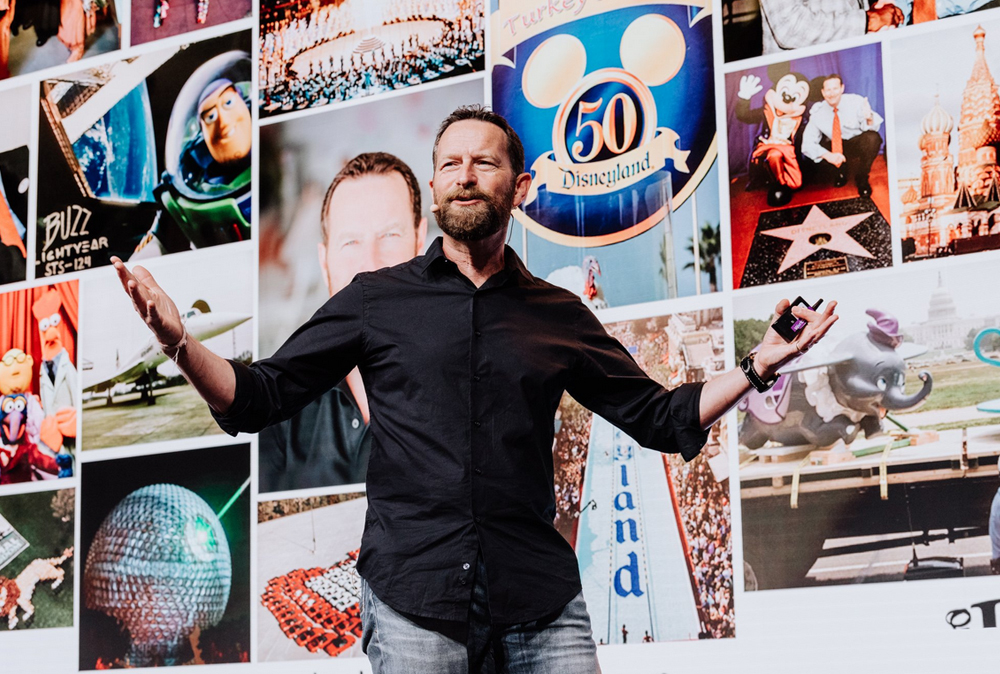 Duncan Wardle works with individual client companies to deliver bespoke solutions, including keynotes and workshops. Below is just one example summary of a successfully delivered workshop.
Design Thinking, The Disney Way – Every wanted to know how Walt Disney came up with the idea for a Disneyland, or how Pixar created a cullture that empowers creativity? Or perhaps found yourself amazed at how some companies develop killer insights that enabled them to break into major new categories. Building on some 25 years of experience with The Walt Disney Company, most recently as Vice President of Innovation and Creativity, Duncan Wardle creates an engaging keynote/workshop presentation that will not only answer these questions but leave you with a new set of easy to use tools, to enable you to take on your challenges in new and different ways that deliver tangible results.
The Keynote/Workshop presentation will include the following Creative Behaviors and Innovation Tools:
The Creative Behaviors
Nurturing – this behavior is all about growing an idea together so it evolves to become "our idea" vs "my idea," which is key to prevent the idea getting diluted, stuck or killed as it moves to execution.
Playfulness – here the audience will learn to focus on how to get into the right Brian State required for Innovation & Creativity at work.
Telegraphing – this behavior will help set the audience up for success in creating the right environment for ideation, whether it's an Expansionist or Reductive thinking session.
Intuition – this is all about helping people dial up empathy for your consumer and ensuring that all the ideas they develop are embedded in Consumer Truth.
Mindfulness – this behavior shows people how to move between their conscious and unconscious brain to develop "Moon Shot" Thinking.
Curiosity – is all about helping people understand the importance of unplanned collaboration and how best to get new stimulus into their lives to develop new ideas.
Bravery – the final Creative behavior for the Keynote/Workshop will focus on the need to be Brave and take smart risks by skilling them with a series of tangible Innovation Tools to give them the confidence to be Brave.
The Innovation Tools
What If? – by asking what if the Rules didn't apply, learn how you can get out of your River of Expertise and think differently by challenging sacred cows.
Where Else? – looking around the world of innovation to see where else your challenge has already been solved and borrowing back the underlying principles to help solve your challenge.
Who Else? – using different perspectives to come at your challenge from a completely different angle.
How Else? – rewording your challenge to get people's minds to a different place.
Storyboard – here the audience will learn how to land a complete idea that engages both introverts and extroverts.
Naive Observers™ – leverages the brain power of the most unlikely sources to get you out of your "River of Expertise" to come up with new and unique ideas.
Wheel of Wonder™ – a tool that helps identify ideas that are embedded in consumer insight and most likely to drive the business.
Deliverables
Participants will learn:
How to use unique Creative Behaviors instilled @ Disney to established a culture that embraces innovation & creativity.
How to use Design Thinking Innovation Tools to "Think Different."
How to integrate all three key learning styles; visual, auditory and kinesthetic.
How to engage both extrovert and introverted thinkers.
How to lead a variety of Energizers to move the team into a Creative Brain state for ideation.
To develop a common language around Innovation & Creativity moving forward.
Interview with Duncan Wardle

Disney has sustained its image as one of the world's most creative and innovative companies. Can you give us same examples of what it takes to create and keep such amazing status across the globe?
The company's founder, Walt Disney was a perennial entrepreneur and risk taker. He created the first cartoon with sound, SteamBoat Willie, starring Mickey Mouse (1929.) The first full length cartoon movie, Snow White (1939.) First theme park, Disneyland (1955.) First color TV Show, Disney's Wonderful World of Color (1961.) First live action movie with animation, Mary Poppins (1964.) Since then Disney cast members have always seen themselves as curators of his legacy and as such are all encouraged to be creative and innovative.
In my most recent role as Vice President, Innovation & Creativity I developed a global site to allow all our cast members from around the world to Creatively Problem Solve together, leveraging the diversity of thought from across all our lines of business and cultures across the globe.
You talk about the barriers that exist to innovation. Why do you think there are barriers, why is it important to remove them and how do you go about it?
There are 5 key barriers to innovation:
1. Time,
2. Lack of Common Language around Innovation & Creativity,
3. Risk Averse Cultures,
4. Consumer Insight being under used,
5. Ideas get stuck, diluted or killed as they move through to execution.
As most companies grow they lose their founders vision and that entrepreneurial spirit. They become bogged down in layers and processes and find it almost impossible to innovate. For example when asked where are you and what are you doing when you have your best ideas, most people will say Showering, Running, Commuting etc. No one has ever answered, at work! Leaders need to model the Creative Behavior of Playfulness when they are in an Expansionist forum, to help everyone generate their best ideas.
Most organizations have also become far too product centric today and are struggling to find their why and become consumer centric. Simply spending a day with your consumers can uncover incredible insights for innovation that big data alone can not always reveal.
Giving your team "Time to Think" can achieve amazing results. For example Google's 20% time, allowed their engineers to develop Gmail and Google Maps.
Thinking differently is a large part of what iD8&innov8 is about. Why do you think this is important and what benefits does this approach bring to a company?
The Innovation & Creativity Toolkit I designed is based on having ideas for Disney for over 25 years, on behalf of Disney Parks, Animation, Pixar, Lucas Films, Marvel, Imagineering etc.
It has been thoughtfully crafted to take the mystic out of Design Thinking and make Innovation & Creativity accessible to all, by designing a toolkit that everyone can use to help them "Think Differently." By making the Creative Behaviors and Innovation tools tangible, the toolkit can change whole cultures as people are empowered to tackle challenges big and small in new and different ways that are embedded in consumer insight, that truly drive business results.
You promote creativity as being something everyone in a business should be involved with. The belief is that this belongs in the design department. How does everyone being creative help a company's bottom line?
With the disruption in business that continues to accelerate, we are going to see a lot of storied Brands fold as they continue to iterate and not innovate. Look at the culture of Walmart vs Amazon. Risk taking must become much more prevalent across corporate cultures but can only be achieved if the whole organization has a tangible set of tools they can all use to enable both innovation and creativity across the board. Diversity of thought is one of the most powerful tools an organization can tap into, whether it is their own employees or brand advocates. Crowd Sourcing, Open Source Ideation Platforms and Accelerator Programs allow companies to open up the dialogue and idea channels to a much broader audience than ever before.
Innovation does not come easy to larger organisations and is usually not top of their priority list. How do you enable innovation to become a way of thinking and acting across the board?
Most companies struggle to both report quarterly results and take smart risks, while creating a culture of innovation and creative problem solving at the same time and no one has stepped in and made it easy for them by creating a tangible process that everyone can use. One that ensures you challenge the challenge at the outset to make sure you have identified the right business opportunity going in. One that allows you to uncover breakthrough insights for innovation by looking in new and different places. One that delivers Moon Shot thinking and finally one that ensures you identify the right idea for both the business and the consumer and allows you to prototype and go to market quickly. That is what the iD8&Innov Innovation & Creativity toolkit delivers.

Duncan shares his expertise through workshops, speaking and consulting. He tailors his workshops to individual clients depending on requirements. He can take participants through a unique creative problem solving process, building confidence, allowing everyone to take smart risks. In his speaking, Duncan engages all participants in his fascinating insights, utilising case studies from Disney, into where the best ideas come from and how some people develop breakthrough ideas that revolutionise an industry.
Duncan also consults for agencies and companies around the globe, helping develop innovative ideas that are embedded in consumer insight. Whatever challenges you face, Duncan helps provide fresh new insight, to deliver tangible results.
If you would like to book Duncan Wardle for your next event, please call Dagmar O'Toole on +44 1628 601 462 or send an email to dagmar@speakers.co.uk.