Michael Woodford
Former President & CEO of Olympus
Michael Woodford
Author of "Exposure: Inside the
Olympus Scandal"
Michael Woodford MBE was the first non-Japanese CEO of Olympus Corporation. He is the British businessman who discovered accounting fraud on a massive scale at board level within Olympus and then was instantly sacked when he brought it to the board's attention. His decision to expose the scandal to the authorities resulted in the company's share price crashing and the resignation of the entire board.
His bravery of exposing this fraud, which approached US$2 billion, has resulted in numerous awards and global recognition. In Britain four national newspapers all separately awarded him their business person award in 2011/2012. This is the only occasion that all papers have chosen to honour the same individual in a given year. He has since become the winner of the 'Association of Certified Fraud Examiners award' for "Choosing Truth Over Self" and he has also won the inaugural Contrarian Prize.
He has also published his bestseller book 'Exposure: Inside the Olympus Scandal: How I Went from CEO to Whistleblower'.
The Olympus Scandal

Corporate Governance

Leadership

Overcoming Adversity

Social Responsibility

Risk
Michael Woodford started work at Lucas Aerospace as a commercial management trainee. He then worked for Olympus for 30 years, initially for the UK subsidiary, Olympus KeyMed, joining as a Surgical Salesman, progressing to Sales Manager and Sales Director before being appointed the company's Managing Director in 1990.
Mr Woodford moved on to become a main Board member of Olympus Medical Systems Corporation in 2004, and was appointed Executive Managing Director of Olympus Medical Systems Europe, where he implemented a radical programme of change within the organisation which resulted in a doubling of the operating profit within three years.
In this same three-year period, he was also responsible for Olympus' Surgical and Industrial businesses in America, during which time both sales and profitability increased considerably. In April 2008 he was appointed as Executive Managing Director and Chairman of Olympus Europa Holding, with overall responsibility for the European Medical, Industrial, Life Science and Consumer Products businesses, and became an officer of the main Board of Olympus Corporation in Japan. During this period, the operating profit of the European business increased by nearly 50%.
In April 2011, Mr Woodford was appointed President and COO of the Olympus Corporation, and in the October, he was made CEO.  However, just weeks into the job he discovered a $1.7 billion (£1.1 billion) fraud and staggering corruption at the highest level. On confronting his fellow directors he was sacked and
forced to flee the country amid fears for his life.
He went public, realising an explosion of media coverage was his best defence. In the following months, the entire Olympus board was sacked. He mounted an attempt to be reinstated but was blocked as the Japanese investment community closed ranks against him.
He has subsequently written a best-seller 'Exposure' chronicling his extraordinary story.
Today Michael draws on his experiences, acting as a consultant, lecturing and advising companies on corporate governance and building an ethical culture.
Exposure: Inside the Olympus Scandal
How I Went from CEO to Whistleblower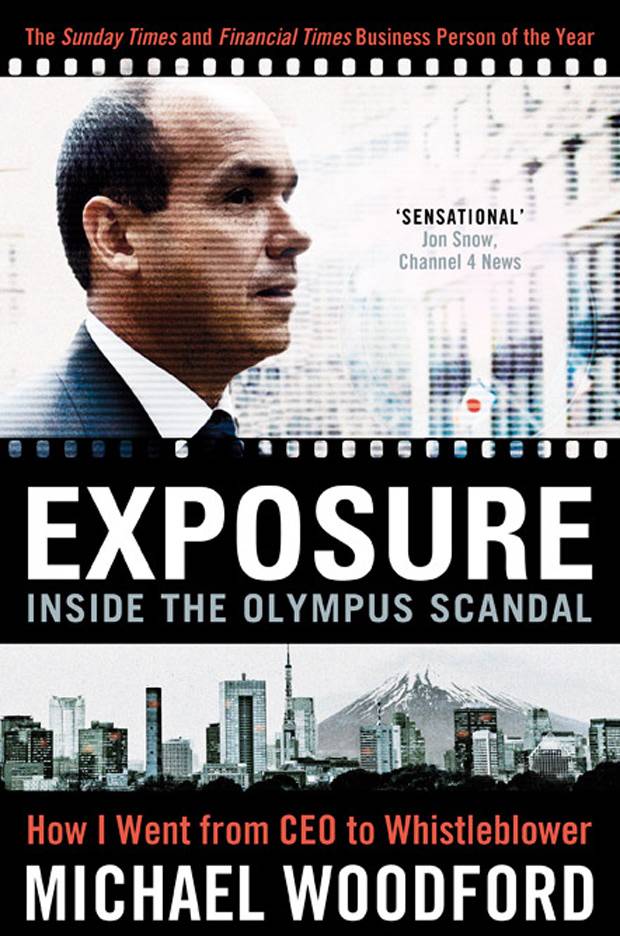 Michael Woodford, a 30 year veteran of Olympus, found himself in the middle of treachery and intrigue shortly after being appointed President in April 2011 when he discovered a $1.7 billion accounting fraud. Olympus corporate executives were hiding huge investment losses through complex takeover deals and secret off-balance-sheet vehicles.
Michael blew the whistle on the scandal and was fired from Olympus on Oct. 14, 2011. When he left the building that day, he feared for his life.
He has chronicled his extraordinary story in his bestselling real life thriller 'Exposure: Inside the Olympus Scandal: How I Went from CEO to Whistleblower', published globally by Penguin Portfolio.
Exposure treats readers to a fascinating inside look at bare-knuckled corporate governance... it should be compulsory reading for company directors and MBA students.

The Economist
Michael Woodford could have spent years turning a blind eye to the shady dealings of corporate executives at Olympus. Instead... he dove headfirst into allegations of corporate misconduct.

Time
Why book Michael Woodford?
Michael offers audiences his own insight into this dramatic story. He speaks about risk management, corporate morality and social responsibility providing audience members with real world solutions to real business problems.
Michael's well delivered speeches are riveting, he is an outstanding storyteller with raconteur timing and invaluable business insight which make him a highly sought after speaker.
To book Michael Woodford for your next event, please call Dagmar O'Toole on +44 1628 601 462 or send an email to dagmar@speakers.co.uk
About CSA Celebrity Speakers
We provide the most influential people on the planet to inspire, educate, motivate or entertain. It's what we do best and what we've been doing since 1983. In those early days, we were pioneers of the speaker industry in Europe. Today we are a world leading speaker bureau. With offices in sixteen countries we represent leading thinkers and can connect you to virtually every personality in the world. We are renowned for providing the highest levels of customer service and advice when selecting a speaker, and why we continue to retain our world-class clientele. When you choose CSA, rest assured, you will be working with the best in the business.
Celebrity Speakers Ltd
90 High Street
Burnham, Buckinghamshire
SL1 7JT
United Kingdom
www.speakers.co.uk
Outstanding service. You always seem to pull it out of the bag for us, whatever we need - already thinking about next year.

Director Group
Excellent service, you were able to move our speaker from a Thursday to Friday night at the very last minute without any problems, first class servce.

Strategic Business Forum
Good and professional service. Great support as always, especially during the event preparation and with logistics, very easy to work with.

Global Data Analytics Group