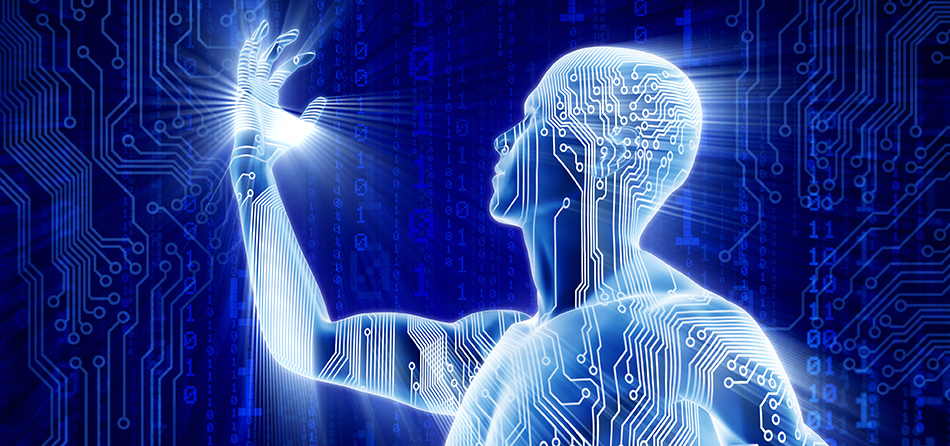 Tech Leaders Move To Keep AI Safe For Humanity
Elon Musk, Peter Thiel and other Silicon Valley heavyweights are set to pour $1bn into a new attempt to protect humanity from artificial intelligence, underscoring the unease with which many leading technologists view recent developments in AI.
The new company, OpenAI, will be a non-profit that conducts research, with the aim that "AI should be an extension of individual human wills".
Concerns about the future powers of computers have been increasing, particularly as recent breakthroughs in "deep learning" have enabled computers better to recognise patterns and understand speech.Fears about what robots with artificial intelligence could mean for warfare have also been a focus of many in Silicon Valley, and a petition against autonomous weapons gained support from scientists including Stephen Hawking this year.
OpenAI says its aim is to "advance digital intelligence in the way that is most likely to benefit humanity as a whole" through its research.
Meanwhile Cambridge Founds A Centre To Study Advanced AI
A new center to study the implications of artificial intelligence and try to influence its ethical development has been established at the U.K.'s Cambridge University, the latest sign that concerns are rising about AI's impact on everything from loss of jobs to humanity's very existence.
The Leverhulme Trust, a non-profit foundation that awards grants for academic research in the U.K., on Thursday announced a grant of £10 million ($15 million) over ten years to the university to establish the Leverhulme Centre for the Future of Intelligence.
The new facility will be directed by Professor Huw Price, the university's Bertrand Russell Professor of Philosophy. Others on the team include political scientists, lawyers, psychologists and technologists.
Japanese Police Deploy Drones To Catch Other Drones
Tokyo's police force has introduced an elite fleet of interceptor drones designed to chase and catch suspicious-looking drones in nets flying over sensitive locations amid concerns for the prime minister's safety.
Riot police will control the camera-equipped interceptor drones to chase after private drones they feel may be spying on buildings, including the Japanese prime minister Shinzo Abe's office, and ensnare them in large nets before returning to the ground. Those controlling the force drone will first warn the suspicious drone's operator to cease the flight, before pursuing them.
The Car Tyre That Senses Road Conditions And Reports Back
Bridgestone has launched an intelligent vehicle tyre which sense road conditions and reports back.
Aimed at car and truck tires, this system relies on an acceleration sensor placed on the inside wall of the tire, powered by a proprietary electromagnetic generator. Its task is to monitor the high frequency vibrations of the tire and transmit them wirelessly to the CAIS central module that's housed inside the car.
There the data are compiled and translated to the actual road surface conditions, distinguished in seven different states: dry, semi-dry, wet, slush, fresh snow, compacted snow, ice. This information is then conveyed to the driver via a digital screen, providing a vital understanding of the road conditions in real time.
3-D Holograms That Respond To The Human Touch
Researchers from Tsukuba University in Japan have created holograms that respond to human touch.
Involving femtosecond lasers, which can stimulate physical matter to emit light in 3D form, the research could eventually lead to the creation of holograms that humans are able to interact with.
The computer-generated holograms, called Fairy Lights (some are shaped like multicolored pixies), are quite small, occupying a maximum volume of 1 cm3, but could be scaled up using larger optical devices. By touching the mid-air light displays with a finger, a holographic heart breaks in half and returns to whole when the finger is removed, the word "Love" turns to "Hate" with a touch, and a floating box can be "checked" with a finger.
Through a series of lenses and mirrors, the researchers followed two methods of rendering their mid-air graphics made up of plasma voxels: through spatial light modulation, and by the scanning of a laser beam via a galvano mirror (a device commonly used in lasers light shows).
Car Makers Losing Battle For Dashboard Apps
Do you want an iOS or Android interface on your in-car display? What you don't want, it seems, is a rubbish copy made by the car makers themselves.
After several years of building its own software to connect mobile apps in its cars, Hyundai Motor Co. is throwing in the towel, becoming the first global auto maker to embrace software from potential rivals Apple Inc. and Alphabet Inc.'s Google.
It may not be the last, according to drivers and industry researchers. New car buyers are asking for vehicles that have Apple's CarPlay and Alphabet's Android Auto, which control the dashboard displays now providing drivers with information and entertainment—and perhaps future revenue from purchases.
CarPlay and Android Auto only recently have been installed by auto makers, but could be in 80% of new cars sold by 2022, says researcher IHS. Autotrader.com, an auto website, says 44% of its customers surveyed would pay $1,499 more to get a car with CarPlay or Android Auto.
Will You Be Happy To Fly In A Plane With No Windows (but loads of screens)?
The latest patent filed by Zodiac Aerospace, the French aircraft equipment manufacturer, takes aircraft design to a whole new level – a lower one, that is, with windows replaced by screens along the length of the aircraft displaying live footage captured by cameras placed on the outside of the plane, providing a view of what you might see through windows.
The images could also be streamed from your own personal electronic device, including smartphones, laptops and tablets, by downloading an application.
Researchers Reach Agreement on "Designer Baby" Research
A global conclave of gene-editing experts said it would be "irresponsible" to attempt to create gene-modified babies until the safety of the idea can be established, and until there is broad social consensus on whether such a step is desirable.
"The human genome is shared among all nations," said David Baltimore, a Nobel Prize-winning biologist at the California Institute of Technology. "These criteria have not been met for any proposed clinical use."
The statement is likely to discourage anyone from rushing ahead and trying to make a genetically modified baby, but isn't binding. Individual countries will need to rely on their own regulations and laws to manage the technology.
The statement was released by the organizing committee for the International Summit on Human Gene Editing, a gathering of several hundred scientists and ethicists this week in Washington, D.C., meant to study gene editing's use in ways that could alter human heredity—that is, by altering eggs, sperm, or embryos, cells of the so-called "germ line."
U.S. FDA Preparing For "Onslaught" On Medical Wearables Devices
A new wave of wearable computing devices that detect and monitor serious diseases is moving from the laboratory to the market, potentially transforming the treatment of conditions ranging from epilepsy to diabetes and creating business opportunities estimated to be worth tens of billions of dollars.
These so-called medical-grade wearables require approval from the U.S. Food and Drug Administration – a rigorous regulatory hurdle that first-generation wearables sought to avoid. The FDA is preparing for the coming onslaught.
Bakul Patel, FDA's associate director for digital health, told Reuters the agency is reviewing applications for three new senior health scientist positions focused on digital health.
Long criticized by some health-tech entrepreneurs as a barrier to innovation, the FDA is now seen as an important ally by companies eager to show that their devices can improve peoples' health – and eager to get health insurers to cover them.
Talking Toys Record Every Word Said To Them
Several new "talking dolls" have appeared on the U.S. market that not only respond to a child's voice but which also record every word the child utters. The range includes a doll called "Hello Barbie".
Magical as these toys might appear, they're a lot like Apple's Siri trapped inside the body of a doll. Whenever you press Hello Barbie's silver-studded belt-buckle, the doll records your child's voice then instantly sends the audio over your Wi-Fi to the cloud to analyze and trigger a prerecorded response.
Dino, a talking dinosaur coming out next year from a company called Cognitoys, draws on IBM's Watson supercomputer for some of its intelligence.
As with Siri in her early days, when she was still a bit of a dolt, the toys' voice-recognition systems have a way to go. Computers still have an extremely tough time deciphering children's voices and unique speech patterns; since not enough children have used speech-based technologies, these systems don't yet have enough data to improve their performance.
ToyTalk, the tech company that partnered with Mattel to bring Hello Barbie to life, stores by default everything the doll records for at least two years to help it better analyse children's speech. As disturbing as that might sound, it's worth noting that Apple stores recordings of everything you've ever uttered to Siri, too.
California Rules Autonomous Cars Must Have Supervising Drivers
The first-ever regulations for self-driving cars rolled out of California on Wednesday — and Google is very displeased.
After putting out ground rules for the testing of autonomous vehicles last year, California's Department of Motor Vehicles issued draft rules for the actual deployment of the cars this morning. Some rules, like requiring manufacturers to receive certification and pass certain cyber security thresholds, were expected.
But the surprise — and the big snag for Google — is that the rules expressly declare that a licensed driver must be present in the front seat at all times.