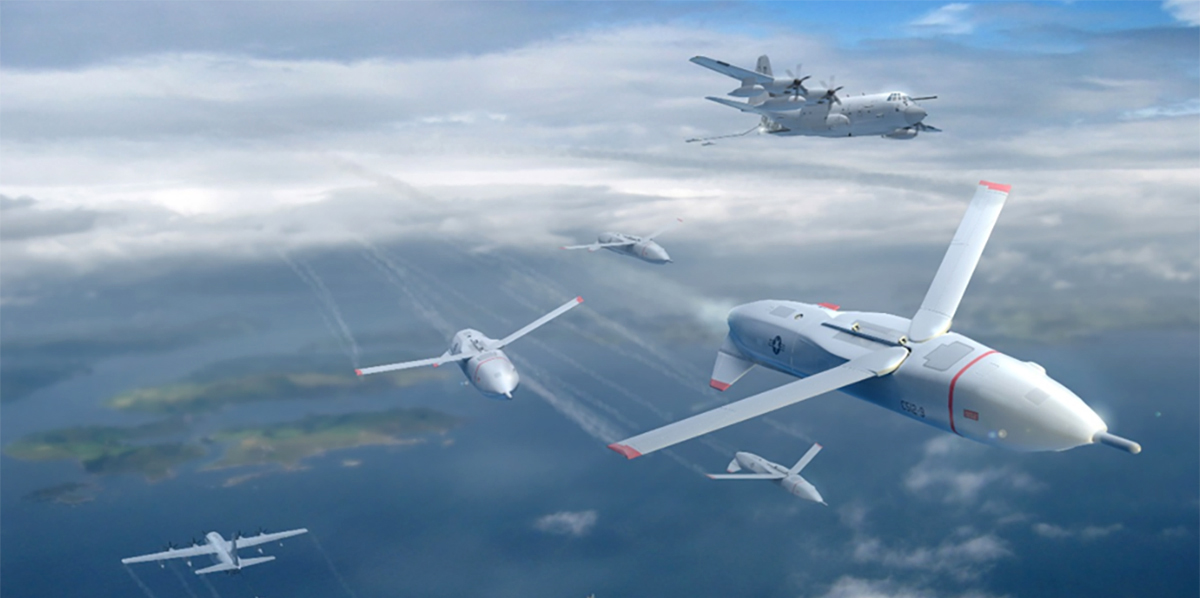 Tiny Drones Flying From A Mothership – Very Sci-Fi
DARPA is designing fleets of small drones which will drop out of bombers, to then be yanked out of the sky by cargo planes.
Sci-Fi as it may sound—as is the case with so many deadly-serious but still far-out military concepts—it makes a lot of sense. Darpa has just selected four companies to push the idea forward.
Called Gremlins, the project calls for a new type of reusable unmanned aerial vehicle that can be air-launched on intelligence-gathering missions from cargo airplanes, bombers, or other military aircraft over "denied" (i.e., hostile) airspace.
Will Electric Planes Fly?
European plane maker Airbus Group SE and German industrial conglomerate Siemens AG have announced they are joining forces to work on electric aircraft technology.
The companies said they would pool about 200 engineers to demonstrate by 2020 the possibility of using electric or hybrid-electric technologies on aircraft.
The project partners said European targets to reduce carbon dioxide emissions require investing in new technologies. In addition to reducing fuel burn, aircraft using more electric power would also be quieter, they said. Noise remains one of the greatest complaints about commercial aviation.
App Taxi Service For Women And Children Only
It's sad that we need it, but it's good news that an Uber-style taxi service just for women and children has just launched.
Clumsily called Chariot For Women, former Uber driver Michael Pelletz decided to create a female-run, fully female-staffed alternative exclusively for women and children.
Drivers for Chariot must be women, and must all be thoroughly background checked before being allowed to take passenger requests. The announced security protocols for rider and driver verification also seem pretty. When a driver starts her shift she must answer a random security question that changes daily to verify her identity, and when a ride is requested, a "safe word" appears on both the driver and the customer's phones.
Would You Drink Your Wine From A Smart Wine Box?
Somm is a new countertop wine dispenser that is controlled by an app to keep your wine in the best possible condition.
The device is filled with a 2.25-liter Sylo cartridge of wine, the equivalent of three bottles.
The makers of the device say they employ a special pump that is normally used for medical-grade blood extraction to remove wine from the Sylo, which keeps the remaining wine fresh. This means you could have a glass of pinot noir one night, then switch over to white for brunch the next day without any degradation to the wines.
The Sylos are also embedded with technology that allows the dispensing unit to know exactly what wine is inside, and adjust the temperature and aeration controls accordingly.
Of course, like all devices that are part of the Internet of Things, Somm also works through an app on your phone to give you detailed information about your wines, let you know how much is left in a Sylo, and make suggestions for new bottles as you rate what you like and what you don't. Should you want one of the recommended bottles, the company will ship new Sylos straight to your door.
A.I. As Good, Or Better Than Humans At Detecting Cancer
Two recent announcements suggest that deep learning algorithms rival human skills in detecting cancer from ultrasound images and in identifying cancer in pathology reports.
Samsung Medison has just updated its RS80A ultrasound imaging system with a deep learning algorithm for breast-lesion analysis.
The "S-Detect for Breast" feature uses big data collected from breast-exam cases and recommends whether the selected lesion is benign or malignant. It's used in in lesion segmentation, characteristic analysis, and assessment processes, providing "more accurate results."
Meanwhile, researchers from the Regenstrief Institute and Indiana University School of Informatics and Computing at Indiana University-Purdue University Indianapolis say they've found that open-source machine learning tools are as good as — or better than — humans in extracting crucial meaning from free-text (unstructured) pathology reports and detecting cancer cases. The computer tools are also faster and less resource-intensive.
Brain Implant Allows Quadriplegic To Move Arm
A paralyzed man has successfully used an implant in his brain and his thoughts to move his arm, marking an advance in a decades long effort to restore movement to people with spinal-cord injuries.
Ian Burkhart, 24, became a quadriplegic five years ago after a diving accident. Messages from his brain to move his limbs can't get to other parts of the body due to damage to his spinal cord.
Researchers from Ohio State University and Battelle Memorial Institute implanted a tiny device in Mr. Burkhart's motor cortex, the part of the brain that controls movement. The device acts as a "neural bypass," picking up the brain signals and sending them to a computer that decodes them.
A Better Way To Visit Ikea?
Many men I know regard a visit to Ikea as a punishment. But now the Swedish furniture chain has launched its first virtual reality experiment, enabling owners of the HTC Vive headset to explore a virtual kitchen and to visualise its cabinet and counter offerings via the headset.
"Virtual reality is developing quickly and in five to ten years it will be an integrated part of people's lives," said Jesper Brodin, managing director at IKEA. "We believe virtual reality will play a major role in the future of our customers."
Within the Ikea virtual reality experience, you'll find yourself standing alone in a kitchen. Somewhere, off in the distance, a child is talking (presumably in Swedish), but it's mainly background noise. Over by the window, you'll hear birds and what sounds like an ocean. Since you're unsupervised, you do what any visitor in a stranger's home would do: you poke around.
Why The Grey Consumer Is Being Ignored
Those over 60 constitute the fastest-growing group in the populations of rich countries, with their number set to increase by more than a third by 2030. The over-60s currently spend some $4 trillion a year and that number will only grow.
Yet companies have been relatively slow to focus on this expanding market. One reason for this tardiness is that young people dominate marketing departments and think that the best place for the old is out of sight and mind. A recent study found 68% of British 65-74-year-olds "don't relate" to advertising that they see on television.
But the biggest reason is that oldies are such slippery customers. The definition of what it means to be "old" is complicated and dynamic. Sixty-five-year-olds are not the same as 85-year-olds. Age affects people in different ways: some fade early while others march on.
Yet Another Breakthrough In Battery Technology
Breakthroughs in battery technology are coming so regularly now that the energy storage problem may soon be solved.
The latest idea comes from Enovix Corp. which is taking an unusual approach to address user frustrations that batteries of mobile devices run out of power too quickly.
Where others have focused on boosting energy storage capacity by changing battery chemistry, the Silicon Valley start-up is betting on a shift in manufacturing technology that borrows techniques from makers of computer chips and solar cells. Enovix expects to produce batteries for wearable devices and other mobile applications with at least double the capacity of existing products.
Are VR Chatrooms A New Type Of Social Media?
If you love using social media you should try AltSpace, a virtual reality social world. It was launched in 2013 by AltSpaceVR, a small start-up based in Redwood City, California.
Although it's early days for virtual reality as a consumer phenomenon, there's been a lot of interest in the idea of virtual chatrooms – AltSpace VR has already attracted more than $15m (£10.6m) in venture capital funding, and Mark Zuckerberg has talked about multi-user VR as the future of social media.
There are alternatives to AltSpace, such as vTime and VRChat but this one is getting a lot of interest due to its multi-platform compatibility and array of features.