Trip Hawkins
Hall of Fame Game Industry Leader, Founder of
Electronic Arts & Former Apple Executive
"You have to be doing something very different
from what everybody else is doing."
Trip played a key role in defining and building two major industries: personal computers and video games. A leading contributor to 4 IPOs, he founded and led the first decade of Electronic Arts, today worth $40 Billion, while driving the creative and product vision for EA Sports. In addition to founding and leading four game companies that raised venture capital, he spent three years working with world leading experts to design and publish an advanced EQ game that teaches children the principles and practices of emotional intelligence.
Often called a legend, Trip is an expert on leadership, strategy, innovation, entrepreneurship, teamwork, company culture and practices in emotional intelligence.
As a result of defining, establishing and leading in the creative and business practices of entertainment software, Hawkins, his products and companies have won hundreds of awards and he has personally won several Entrepreneur of the Year, Lifetime Achievement and Hall of Fame awards, and is the only business executive enshrined in the game industry hall of fame.
Finding celebrity and business acclaim early, Trip has been featured in every major media outlet. This includes the rare distinction as one of People Magazine's "50 Most Beautiful People" while also being crowned "King of the Nerds" by The Economist.
Leadership

Teamwork

Innovation

Strategy

Resilience

Success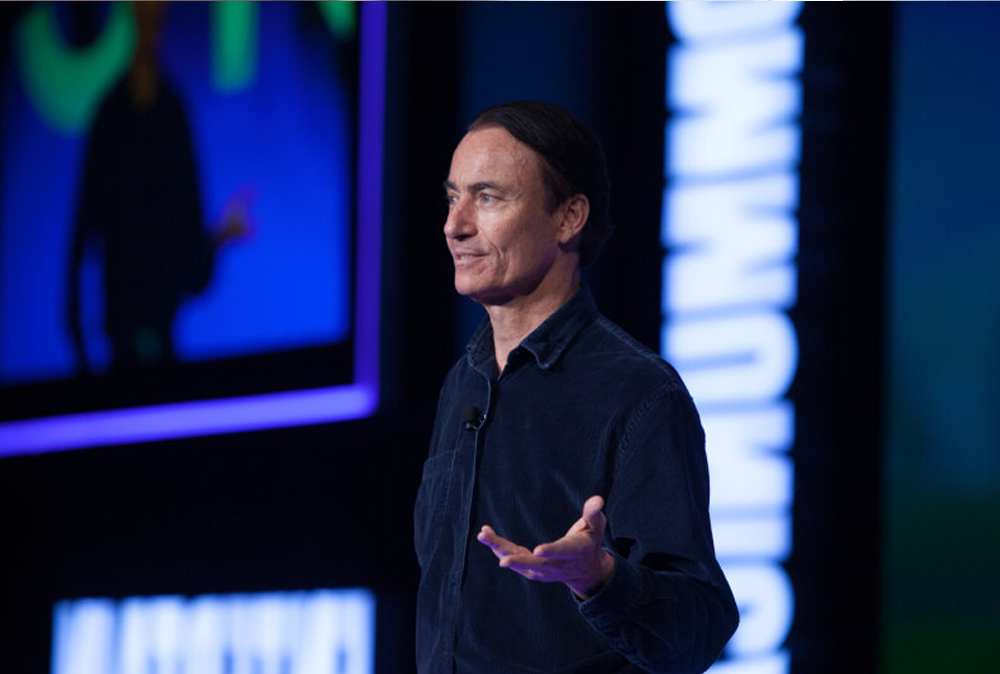 "Trip is that rare and great entrepreneur who built a lasting company, created an industry, and changed popular culture. He brings a refreshing blend of inspiration, passion, leadership, insight and honesty that is rarely seen."

Derek Anderson, Founder/CEO, Startup Grind
"Trip is one of the most inspiring entrepreneurs I have ever met. The energy and insight our audience got from his talk were amazing. We'd love to see him again!"

Guillermo Garza, Startup Mexico
"Exemplary, charismatic, a profoundly gifted storyteller! Brilliant success, sobering disappointments, innumerable lessons."

Janice Toben, Director, Institute for Social and Emotional Learning
Interview with Trip Hawkins

You have been described as a Silicon Valley serial entrepreneur, a Video Game Industry Guru and you have been inducted into the Digital Hall of Fame. How would you describe yourself today?
Intensely alive. Conscious and self-aware. Curious; always learning. Woke. Determined to help our nextgen leaders heal the world and move humanity forward into a better future.
Having worked with Steve Jobs since the outset at Apple, we'd be interested to hear your thoughts on how you think he might differ from entrepreneurs today and how he approached problems and opportunities…
He stands out in human history for taming computer technology and making it available and beneficial to absolutely everyone. Yet he never stopped being angry, suffered like Prometheus, and created a lot of misery for those around him. If you could stay in his kitchen when it got hot, he was an incredibly creative and strategic collaborator; a great leader with magical charisma and spell-binding storytelling.
You have delved deeply into business psychology and mindsets and I know you work with numerous entrepreneurs, so are there any common denominators that work well or badly when it comes to traits and behaviours that leaders have?
Studies consistently find that Silicon Valley leaders are very bright, creative, risk-tolerant and hard-working. They also lack empathy and can be terrible in terms of social skills, including a lack of self-awareness. Ironically for many entrepreneurs, our biggest strength will also turn out to be our biggest weakness – and we usually won't see that coming.
I know that teaching University students as Professor of Entrepreneurship and Leadership at the University of California, Santa Barbara was very fulfilling for you, and in turn for your students – how was that experience?
I'm a lifelong learner and love helping people that have a growth mindset. I had dozens of students that are legitimate human jewels, and it was an honor to help them polish some of their facets. Many of them said my course was the best one they'd ever had in their lives. Quite a few have stayed in touch with me and I've helped them with their careers and businesses. I just bought a few shirts from a fashion e-commerce entrepreneur that moved back home to Costa Rica.
As a founder of Electronic Arts, The 3DO Company, and Digital Chocolate, you have seen great success – was it the successes or the setbacks that you learned from and enjoyed the most?
I think we all know this but I will say it anyway: we enjoy the high points, but they don't last. Whereas, adversity is our greatest teacher. We grow the most when we get knocked down and get up again. In the end, the key ingredient in life is genuine, authentic effort.
As someone who has changed the tech world throughout your business career, which opportunities in the tech space excite you looking forward?
Sustainability, especially with contributions from materials science. Blockchain, NFTs, the metaverse, more playful and meaningful social media. AI, Machine Learning, Data Science and Big Data that is applied in ethical and altruistic ways.
An expert on leadership, strategy, innovation, entrepreneurship, and practices in emotional intelligence, Trip played a key role in defining and building two major industries: personal computers and video games. Currently, Trip spends much of his time mentoring other entrepreneurs and businesses at start-ups, in addition to his impressive career as an international speaker. He encourages others to disrupt themselves, to innovate for the betterment of the planet and to develop leadership and team management skills.
To find out more about Trip Hawkins or to book him please contact Steve Cummins.